Chesterfield tub chairs are well crafted, comfortable and go well with most interiors. Also, the chesterfield tub chairs are especially appreciated by anyone who knows the miseries of low back pain.  Due to their classic look, the chesterfield tub chairs are always a favorite with designers and never out of fashion.  The fact they still dominate the market has a lot to say of how consumers regard them and the Bruce tub chair below is a perfect example for their popularity.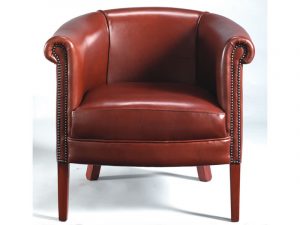 If you've ever owned, or even sat in a Chesterfield tub chair then you realize it has something that very few other popular armed chairs offer. These barrel shaped chairs with their comfortable backs and arms just wrap around you like a hug and offer real comfort. Its unique shape and design have been found to ease the misery of low back pain for those with chronic conditions. Then, of course, there is the fact that these Chesterfield tub chairs are, there's just one word for it… classy.
Lots of homes and offices enjoy the comfort and good looks of Chesterfield tub chairs. In their traditional leather upholstery or with an updated look in another fabric or in velvet, they provide waiting rooms and family rooms with a style that's as easy on the eye as their seat is easy on the back!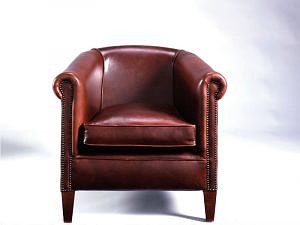 Our Chesterfield tub chairs collection is a mixture of classic and traditional models but we also offer contemporary designs like the Kent Chesterfield tub chair above. The Chesterfield tub chairs are ideal for customers who are looking for classic and outstanding designs but also leather chairs, which can provide comfort and relaxation. Our leather tub chairs are ideal for living rooms as well as more formal environments such as smoking clubs. If you are looking for bespoke high quality Chesterfield tub chairs in leather, velvet or fabric, or for more information please contact us at [email protected], we would be more than happy to assist you with your furniture needs.
All our furniture is custom made to order in England.
For more updates, offers and information on our Chesterfield tub chairs why not follow our company on Facebook and perhaps send us an image of the space you would like to fill with one of our luxurious leather sofas or armchairs.